Call it the 'Luck of the Irish', or call it favoritism towards our fabulous readers.  Either way we want you to know how much we appreciate your support.  Once again, with the help of chickabug, we created a free exclusive printable gift especially for you: Free St. Patrick's Day Printables.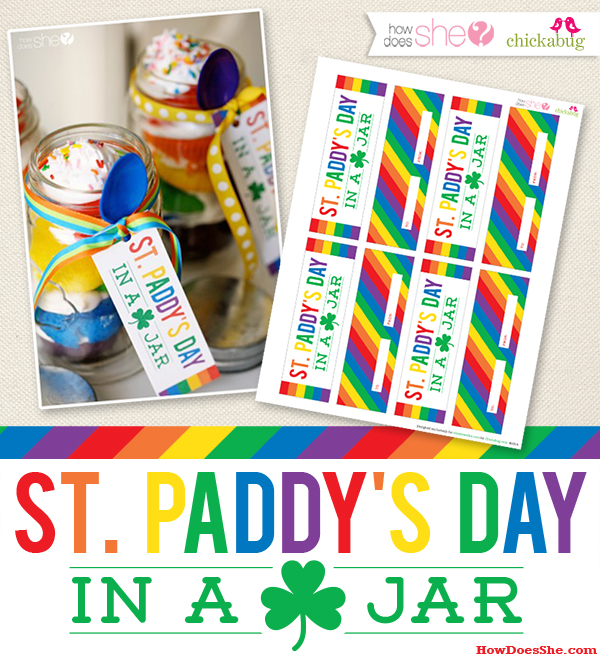 What exactly is  St. Paddy's Day in a Jar?
Basically a rainbow of happiness ready to burst straight out of a jar.  I think that about sums it up. 
Using jars these days is a practical, yet adorable trend that we love.  And I mean, who doesn't have jars laying around? Go ahead, empty out that spaghetti sauce if you need to.  Grab this exclusive new free St. Paddy's Day printable, fill the jar with a rainbow of goodness, and you are set.
The colors of the rainbow are guaranteed to make anyone's day a bit brighter.  Perfect for a child's teacher, a friend, a spouse, or even for your kids. I seriously can't even look at the photos below without smiling.  Here are a few Red, Orange, Yellow, Green, Blue, Indigo, and Violet ideas to get you in the rainbow mood.

—
Flowers!  My little man is definitely bringing these to his teacher to brighten her St. Paddy's Day.  I found every color of tulip in the rainbow, minus blue, at my local grocery store. (Of course the greenery counted as the green).  Simply tie a big blue ribbon around the jar and you are set.  A rainbow of happiness ready to go.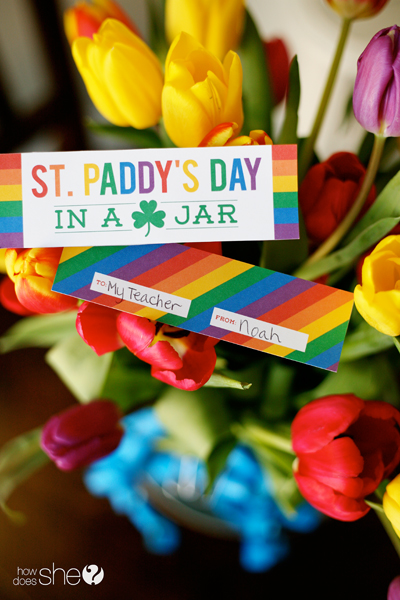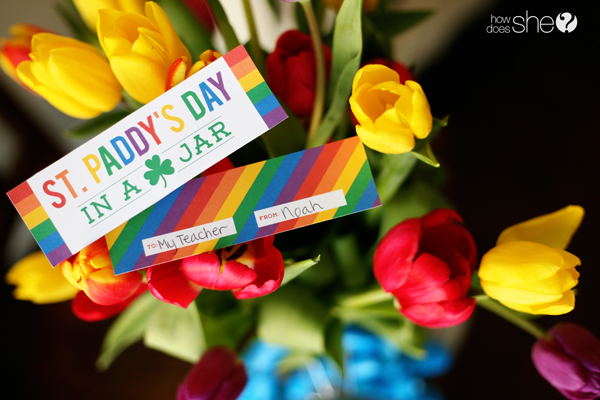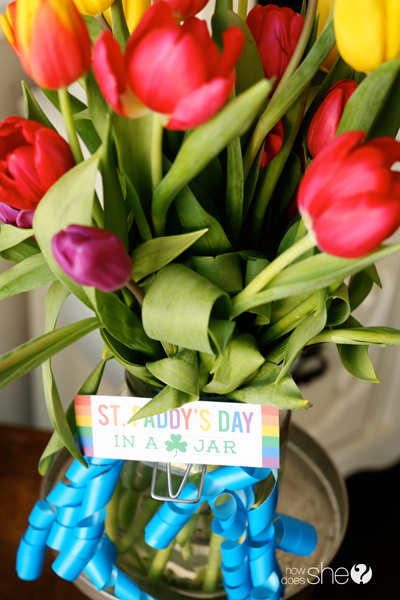 Candy!  Oh jelly beans.  You can find them just about everywhere this time of year (we love Jelly Bellies!).  Who doesn't love this candy that is a sure sign of Spring?!  My kids, aka taste testers, loved helping to sort the colors and then dumping them in the jar layer by layer.  Skittles are a great filler for this idea too!
And last, but definitely NOT least, CAKE!!  I simply used 2 T of batter in each muffin tin, added color, and BAM!  Super easy!  It's a piece of cake really (ha ha, I'm a dork).